GT-37 Page

VIN 23371Z135454 71 1/2 GT-37
Project starts September of 2003. This car spent most of it's life in New Mexico where it was delivered, was also part of Purley PMD in house projects. At some point of a restoration at Purley PMD the project was scrapped and nearly ALL of the small parts and GT-37 exclusive parts went there seperate ways. So I now have the task of piecing it back together. This car is white with blues stripes bare to the bone GT-37, it is the full length stripe which is rumored to only have a 100 or so produced.
PHS

Tilte

Build Sheet


VIN 23371Z130724 71 1/2 GT-37 Parts car.
PHS

Another Pic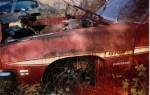 Full length stripe which is rumored to only have a 100 or so produced.
John V from Classical Pontiac and now PY Forum has provided this Pontiac Bulletin 71-86 concerning the mid year stripe change:


Print of the hood pin installation
GM Production of GT-37, numbers provided by Jim Mattison:
70 – 1419
71 - 5802 the 71 1/2 are mixed in this.
71 1/2 - Possibly 50 or 100.

John Sawruk former GM engineer who is the adopted GT-37 Czar has been quoted in articles that there may only have been around 50. I have heard verbally from several other well known collectors the number may be around 100. Who is to know for sure?.
07/09/04 I had the pleasure of hearing John at the POCI; very nice man and a dedicated enthusiast. He reverberated that the amount of 71 ½?s are unknown and suggested maybe a few hundred.